The Highland Tour in Walter Scott's Waverley
Waverley; or, 'Tis Sixty Years Since is a historical novel by Sir Walter Scott. Its hero is Edward Waverley, an English gentleman who becomes a soldier during the Jacobite revolt in 1745. In contrast to the Grand Tour, Waverley makes a Highland Tour visiting first the friends of his family in the Scottish Lowlands and later travels into the Highlands.
In his famous analysis of Waverley, Franco Moretti has emphasised that in this novel, travelling in space is at the same time travelling back in the historical past. Moretti writes:
"When Waverley leaves his regiment to visit Tully-Veolan, and then Glennaquoich, in the Highlands, his movement in space is also, and in fact above all, the movement in time ... He travels backwards through the various stages of social development described by the Scottish Enlightenment: the age of Trade, of Agriculture, of Herding (the pretext for seeing the Highlands is a cattle raid), and finally of Hunting (the essence of Highland culture is embodied in Fergus' ritualized hunting party - which also coincides with the beginning of the rebellion).
References
"After a short visit to London, he proceeded on horseback, then the general mode of travelling, to Edinburgh, and from thence to Dundee, a seaport on the eastern coast of Angus-shire, where his regiment was then quartered." (Scott, Waverley, Chapter 7.)
"There is no particular mansion described under the name of Tully-Veolan; but the peculiarities of the description occur in various old Scottish seats. The House of Warrender upon Bruntsfield Links and that of Old Ravelston, belonging, the former to Sir George Warrender, the latter to Sir Alexander Keith, have both contributed several hints to the description in the text. The House of Dean, near Edinburgh, has also some points of resemblance with Tully-Veolan. The author has, however, been informed that the House of Grandtully resembles that of the Baron of Bradwardine still more than any of the above." (Scott, Waverley, Chapter 8, note 7)
""This," said Evan, "is the pass of Bally-Brough, which was kept in former times by ten of the clan Donnochie against a hundred of the Low-Country carles. The graves of the slain are still to be seen in that little corri, or bottom, on the opposite side of the burn ... It issued in a narrow glen, between two mountains, both very lofty and covered with heath. The brook continued to be their companion, and they advanced up its mazes, crossing them now and then, on which occasions Evan Dhu uniformly offered the assistance of his attendants to carry over Edward; but our hero, who had been always a tolerable pedestrian, declined the accommodation, and obviously rose in his guide's opinion, by showing that he did not fear wetting his feet. Indeed he was anxious, so far as he could without affectation, to remove the opinion which Evan seemed to entertain of the effeminacy of the Lowlanders, and particularly of the English." (Scott, Waverley, Chapter 16)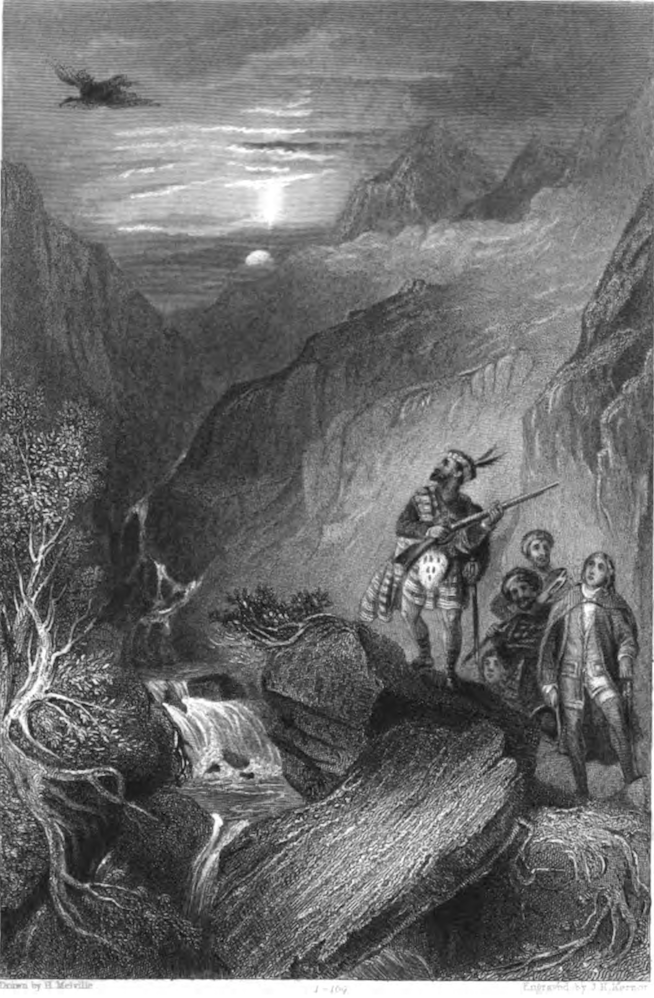 "The chief and his guest had by this time reached the house of Glennaquoich, which consisted of Ian nan Chaistel's mansion, a high rude-looking square tower, with the addition of a lofted house, that is, a building of two stories ... Around the house, which stood on an eminence in the midst of a narrow Highland valley, there appeared none of that attention to convenience, far less to ornament and decoration, which usually surrounds a gentleman's habitation. An inclosure or two, divided by dry-stone walls, were the only part of the domain that was fenced; as to the rest, the narrow slips of level ground which lay by the side of the brook exhibited a scanty crop of barley". (Scott, Waverley, Chapter 19)